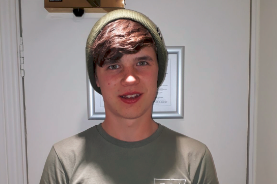 It's a gas! Here Luke Duthie, 18 explains why he's loving his apprenticeship with National Grid right now.
His apprenticeship is: Gas Network Craftsperson - Electrical & Instrumentation Apprenticeship standard (Level 3)
What were you doing before you started?
I was still in school doing my exams. After I applied, I received a conditional offer, which definitely pushed me to get the best grades I could.
Why did you originally want to work in this particular profession?
In 2015, I completed a week's work experience at St Fergus Gas Terminal. That was my first glimpse at what a career with National Grid looked like, and after that I always wanted to work for the company. Whilst at the terminal, I was involved with all three trades – mechanical, electrical and instrumentation – and I particularly enjoyed the instrumentation aspect. So afterwards, I felt compelled to apply for the 2016 intake of Electrical & Instrumentation Apprentices with National Grid.
Why did you think an apprenticeship was the best option for you?
I thought an apprenticeship would be best for me as it provides a mixture of hands on experience and classroom learning. I liked the idea of being able to apply the knowledge I have learned in the classroom into the working field. This type of learning better suits my learning style – more than solely classroom learning.
In a few sentences, tell us about what happens on a typical day
My day normally begins at 8:30am, when I attend a 'morning hub'. Here I discuss with my colleagues what work will be undertaken. After that, we take our tools down to the site, and get set up for the day. Due to the operational demands, being on site can be very dynamic. We may be required to completely re-plan our activities if any critical defects arise which need to be prioritised. Typically, a day's work on site involves routine planned maintenance such as calibration, testing and inspection of fire and gas systems, transmitters and many other systems and devices.
In your own words, what has the programme given you – what have you got out of it on a personal level?
I feel that National Grid's apprenticeship scheme has helped me to develop my confidence as well as developing my team working skills.
Is there anything you've done during the apprenticeship that you are particularly proud of?
One thing I am particularly proud of is passing my 17th edition IET wiring regulations – this involved a lot of revising, and showed me that my hard work pays off.
What are your plans/aspirations for the future, from a career perspective?
Working with National Grid has given me a robust understanding into how I can achieve my future aspirations. The training and experience that I have gained is unrivalled, and I believe it will enable me to become exceptionally proficient in instrumentation maintenance and testing.
Find out more about Luke's apprenticeship on our website.