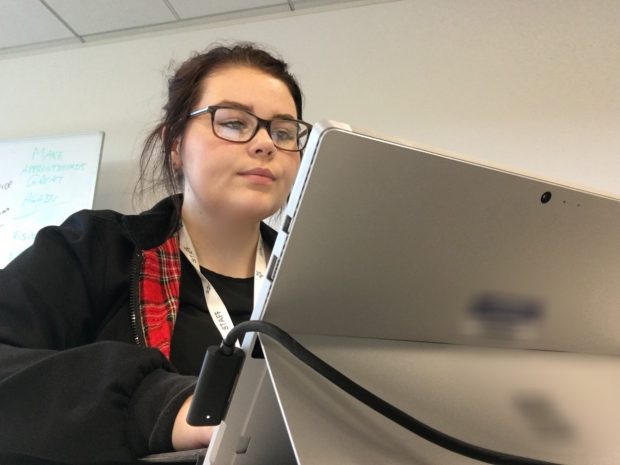 Apprentices are the future of businesses. The UK is facing a skills shortage across many sectors and employers need highly skilled workers. Apprenticeships can close that gap by training young people.
My apprenticeships have helped me start paving the way for my career. I have learnt so much in my time as an apprentice. I have been able to look at where I want to go with my life and see how hard I have to work to get there.
Why I chose an apprenticeship
When I came to the end of secondary school, I was unsure of what career path I wanted to take. My school tended to push university over alternative routes, and I wasn't too keen on spending the next five years of my life in a classroom. I have always found that I learn best hands-on and so I thought an apprenticeship would be the best fit for me. Luckily, I was right.
Experiencing apprenticeship frameworks and standards
Previously, I completed a level 2 business administration apprenticeship that was part of an apprenticeship framework.
The level 3 digital marketing apprenticeship that I am currently doing is part of an apprenticeship standard, and I'm seeing first-hand the differences between the two.
My first apprenticeship was very 'tick-box'. I had to complete a lot of units, which were assessed and marked individually rather than as part of an overall assessment.
My current apprenticeship shares some similarities with my previous one. There are also some differences. Just like during my previous apprenticeship, I'm learning on the job. I have time dedicated to my apprenticeship studies and I am earning a wage.
Unlike during my previous apprenticeship, I don't have assessments throughout my apprenticeship. Instead, I will have an end-point assessment, when I will need to prove that I am competent in my whole job. I am completing a Chartered Institute of Marketing (CIM) certificate as part of my apprenticeship, which will be great to have.
I did learn a lot during my first apprenticeship. I hadn't had an office job before so it gave me a lot of basic work skills that I could use in any office. Still, I can see the leap from a framework-based to a standard-based apprenticeship. I'm sure at the end of my current apprenticeship I will feel more qualified for jobs within my sector than before.
The role of the Institute for Apprenticeships
It is amazing that the Institute is creating new standards and raising the quality of apprenticeships. As an apprentice, I am excited to be a part of it.
I know first-hand how much an apprenticeship can help a young person develop both as a person and professionally. In the past year or so, I have learnt so many skills during my apprenticeships that I would not have been able to if I would have stayed on as a student. I have been able to adapt to the working environment and my confidence has grown immensely.
Follow Hannah on Twitter.

You can also sign up for email alerts to get updates on new posts.