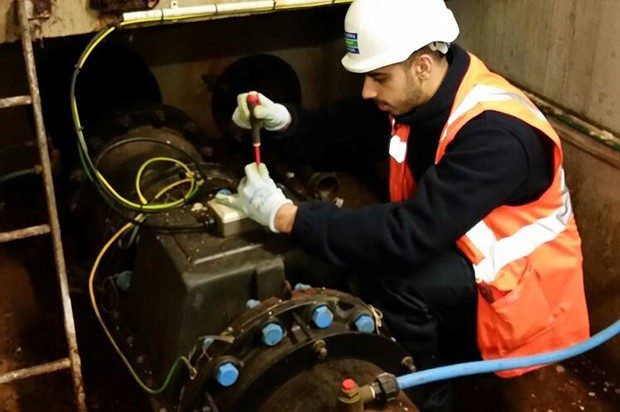 My name is Heeran Basi and I am an ICA apprentice at Severn Trent Water, based in Derby. I am currently 21 years old and in the final year of my Level 3 apprenticeship in Instrumentation, Control & Automation.
Throughout school/college I never really knew what career I wanted to pursue, so when it came to applying to university it was a real struggle to select a subject I was interested in. Eventually, I completed my application and got accepted by my preferred university choice.
An opportunity I could not afford to miss
I never aspired to be an apprentice and didn't know much about what an apprenticeship was, but as I looked further into the Severn Trent scheme it appealed to me more and more. When I heard about the opportunities available alongside the training and experience I would gain, it seemed like an opportunity I could not afford to miss.
The applications process was made up of various stages and in all honesty, I never expected to be successful. I had very little interview experience and was very nervous in formal interview/presentation situations. Once I got the phone call telling me I had been successful, I knew that this was much more suited to my learning style and career goals so it was a relatively easy decision for me.
Benefits I have gained from my apprenticeship so far
As an apprentice, I feel I am best placed to give an insight into the life of an apprentice and express how it can be the perfect way to kickstart your career.
Being an apprentice is a brilliant opportunity to gain knowledge and work experience alongside training. This experience will teach you the appropriate behaviours that match those expected from the company. From a personal perspective, the experience you gain will help you to stand out when you look to progress in your career and the apprenticeship will ensure you have the technical knowledge that can be applied wherever you decide to go.
An apprenticeship can allow you to gain a holistic view of a business and experience various departments. You are in a learning and development role, this gives you an element of freedom to go and learn more about different areas of the business and spend time expanding your skillset. In a big company this is a great opportunity to spend time with a range of employees in different departments and learn about the business on a much wider scale than just the department you work in. Additionally, this will help you to network within the business and build your contacts.
It is often overlooked in school and college that we require much more than our classroom knowledge to have a successful career. Upon leaving school, I hated doing presentations, speaking in front of large groups, mixing with unfamiliar people and pretty much any activity that involved me being in the spotlight. But my apprenticeship has allowed me to seek out opportunities to gain experience in these areas and I now find myself presenting in front of business managers, speaking confidently in front of large groups and having no problems mixing with new/unfamiliar people. This confidence has gone beyond my work life and has massively benefited me in many social situations too.
These are some of the key benefits I have found from doing my apprenticeship but as you speak to various apprentices they all have different perspectives on why their apprenticeship has been such a great choice for them.
I am passionate about raising the awareness of apprenticeships
As I speak to apprentices, I find it very interesting that such a small percentage state that they aspired to be an apprentice and knew they wanted to complete an apprenticeship throughout school. I am passionate about raising the awareness of apprenticeships, to provide students with all the relevant information to allow them to make an informed decision on the best route for them.
My friends always say I was lucky to fall into this apprenticeship and in many senses, I was, but the truth is that the opportunities are out there for everyone, it's just a case of researching and finding a position that suits your future aspirations.
Sign up to our newsletter, and follow us on Twitter and Linkedin.