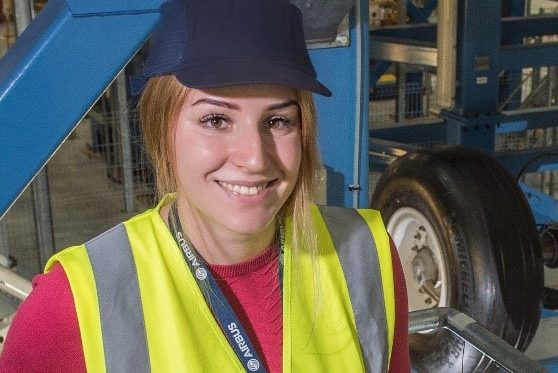 Zuzanna Wnekowska is a level 6 Aerospace Engineering apprentice at Airbus – and also a member of the Institute's apprentice panel. Hear more about Zuza's amazing apprenticeship as she reveals how she not only gets to work on components and parts for aircrafts, but also gets to see those parts in flight!
Considering all options
Before I started my apprenticeship, I did my A levels in Maths, Physics and Product Design. I initially applied for university but – at the same time – I  decided it might be a good idea to see what else was out there. That's when I found an apprenticeship in Aerospace Engineering at Airbus.
I applied and received offers for both routes, but I decided to go with an apprenticeship because of the experience it provides. I loved how it gave you the opportunity to earn while you learn, all the while not getting into any debt!
Working on flying parts
I'm currently on a development scheme, which means that every three-to-six months I rotate placements around the engineering office. It's very exciting to try new things every few months.
My placements are usually in the aerospace engineering structural design of wings. I've also worked on electric flight, HoloLenses (augmented reality) and I've done lots of coding.
My favourite part of my job has to be seeing my parts on the aircraft – I would have never thought that at age 20 I would have a flying part!
I'm also really proud to have been featured on the BBC's apprentice story video.
Gaining new skills… and a degree!
I'm doing a degree as part of my apprenticeship, so every university term I attend classes once or twice a week for a whole day to complete the academic side of my course. For this, I do a lot of theory, learning about aerodynamics, structures, design and stress. A lot of it is mathematical and logical. We have exams twice a year and a bit of coursework in between.
I also completed an NVQ in engineering and advanced engineering manufacturing alongside this as part of my framework.
It's always good to record the work you do in the office because everything is so fast paced you are constantly learning and gaining new skills – it's  amazing how you quickly you grow!
The best decision
It's true that an apprenticeship is hard work. But it gives you a wide range of skills that you will have for life and you become a really well-rounded individual. I would encourage anyone and everyone to do an apprenticeship!
Looking back, it's the best decision I've made. I'm so happy with how far I've come and the experiences and opportunities have been amazing.
I hope to stay in Airbus and pursue a career in design. I'm also interested in airworthiness (what makes planes allowed in the sky) and the rules that go along with it.
Make sure to check out our twitter to see the range of videos we have created to showcase brilliant apprenticeships this results day!