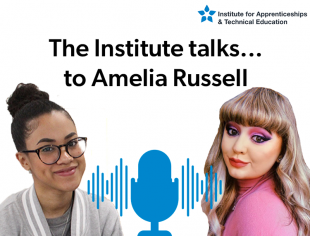 Part of our apprentice panel podcasts, Jamilah Simpson our apprentice panel host interviews apprentice panel lead, Amelia Russell.
Amelia, 23, is currently completing her level 3 business administration apprenticeship at The Institute for Apprenticeships and Technical Education.
As a care leaver, her education journey has been a challenge:
"I become very aware of the possibility of failing school and of not being able to do well in life. It terrified me. At the age of 14, I was fostered. Luckily, I was encouraged massively by my foster parents; I am forever grateful to them for giving me the confidence and self-belief I needed."
Another obstacle Amelia has faced is preparing for her end-point assessment in lockdown. Working from home since March 2020 and adapting to virtual learning but that hasn't stopped her:
"It's definitely been a challenge, but if you really want it to work, you really got to put the effort in. I am leading up to my EPA, and I've been so excited, just to finish my apprenticeship, and to say I've finished it, and I did it. Even after a year in a pandemic and lockdown, and it's been a real struggle."
You can find more information about the apprentice panel on the Institute's website.