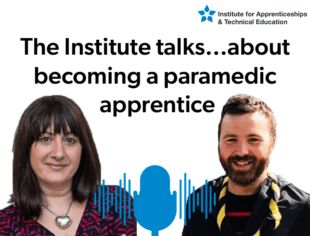 In this episode of The Institute talks, we talk about the invaluable experience gained through a paramedic apprenticeship and the range of progression opportunities available.
In this podcast, our host Fariba Carr is joined by Justin Honey-Jones, a senior paramedic and a member of our Health and Science route panel. He is also an associate lecturer in Paramedic Science at Anglia Ruskin University.
Justin speaks about his own experience from routine calls to the bigger emergencies such as Grenfell Tower and how to decide if an apprenticeship is the best path and where to apply.
He also mentions how apprentices on average gain 1600 to 1500 hours of front-line clinical experience per year, whereas university students will have 750 hours per year of frontline experience. All that experience allows apprentices to see the whole system, and as Justin stated:
"The paramedic qualification is just the start of a wonderful journey, but it's a golden ticket and it's what you do with that ticket that kind of opens up your path and your aspirations."