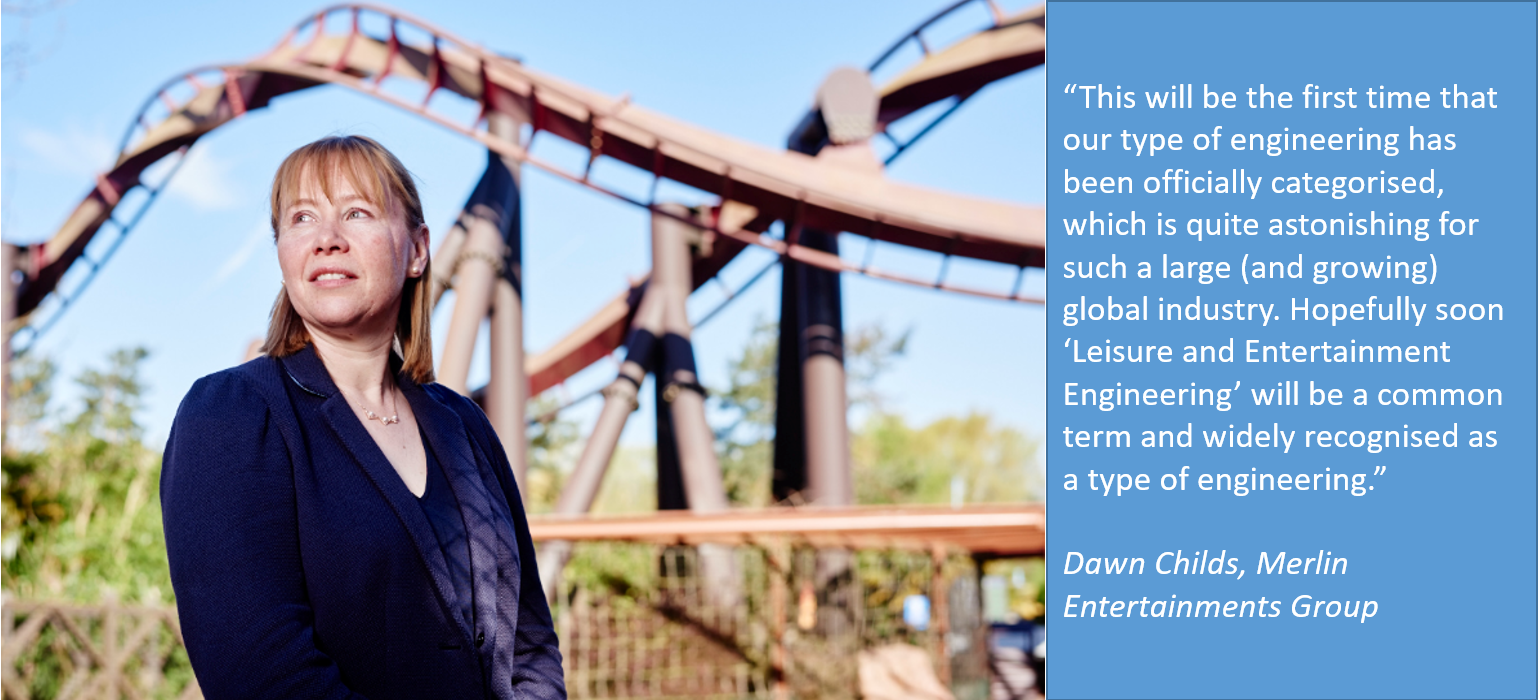 Trailblazer, Dawn Childs works as Group Engineering Director at Merlin Entertainments Group. Dawn's helping to develop the new 'Leisure & Entertainment Engineering Technician' standard which is now approved for delivery.
How and why did you and Merlin Entertainments first get involved in creating a new apprenticeship?
When I joined Merlin in 2016, the company was struggling to recruit technicians and engineers who fully suited its needs. Even those who were qualified needed vast amounts of industry specific training to make them fully competent for our requirements. It seemed clear to me that our industry needed its own standard, and my liaison with other non-Merlin parks and attractions around the UK confirmed this. That is why I set up the Trailblazer Group to establish it.
What will the apprentices who take this new standard be qualified to do?
They will be able to become part of the theme park maintenance team, being responsible for the daily opening checks on the rides and attractions at a theme park, and maintenance and rectification issues.
How is this new apprenticeship an improvement on what went before?
The previous apprenticeship frameworks would just deliver a basic electrical or mechanical engineer, but the new standard includes all our industry specific requirements.
Are any of the skills they'll learn be transferable?
Yes - many of the basic engineering principles and fault rectification techniques taught can be transferred into the maintenance and rectification of any technical equipment.
The apprentices will also be taught additional skills such as effective communication skills. We want to ensure that any technician can efficiently hand over their work to a colleague, and clearly communicate details of a specific fault, and any previous work they have carried out.
Theme parks are obviously concerned with health and safety - will the apprentices be educated in this area?
Yes, very much so. They will be taught about the health and safety risk assessments for the park rides and equipment. They will be familiar with the designs of the various safety features, and understand how they work.
Statistically women are currently under represented in engineering in the UK. How do you feel about this, and how did you first come to enter this particular field?
One of the reasons I first became an engineer was because it attracted the best sponsorship at university. At the time I didn't realise that it was a particularly unusual career choice for a girl because my father was a mechanic and never discouraged me. There is no doubt that we need more female engineers – simply put there is a shortage of engineers and by having so few women as engineers we are missing out on half of the potential talent that is available.
Did you experience any challenges as a woman when you were forging a career in this field?
I experienced a certain amount of sexism and other challenges along the way, but the landscape is changing. In my first 20 years as a female engineer I believe the number of women in engineering increased just 1% a decade, from 7% in the mid-90s to 9% in 2016. But last year's figures have just come in and recorded 11% - so there has been as much progress in one year as in the last two decades – which is fabulous!
How do you and the industry in general view the current changes within the apprenticeships space?
We all see this as a fabulous opportunity to create technicians that are perfect for our requirements, enabling us to avoid the previous recruiting challenges. Up until now, the type of engineering that is carried out in this industry did not have a 'label'. This will be the first time that our type of engineering has been officially categorised, which is quite astonishing for such a large (and growing) global industry. Hopefully soon 'Leisure and Entertainment Engineering' will be a common term and widely recognised as a type of engineering.
Would you recommend getting involved in the trailblazing process?
Absolutely. It's the perfect way to create a scheme that truly meets the requirements of the specific industry.
You can find all apprenticeship standards in development and approved for delivery on the Institute's website.