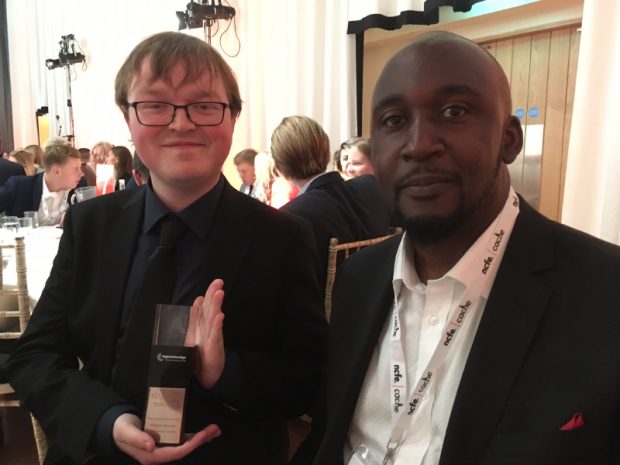 Tom Mynott was shocked to discover he was one of just 10 apprentices on the regional shortlist for Rising Star of the Year at the 2018 National Apprenticeship Awards. He was even more surprised when he was then awarded the regional 'Rising Star of the Year' Award.
Tom began working in the software development team at Transport for London (TfL) in 2015 as a Level 3 Apprentice and has now progressed to the Level 4 Software Developer apprenticeship with Firebrand Training. On choosing an apprenticeship over university, he said: "I had an offer to study Computer Science at Bournemouth University, but I changed my mind when I got the offer letter. I feel like I've learned a lot more than I would have done at university - on the industry side of things as well as on the technical side."
He shouldn't have been too surprised to win the award – TfL had already crowned him their Apprentice of the Year for 2017. But Tom's reaction is, according to his colleagues, typically modest. He said: "To be honest, I didn't really know there were awards for this – I've just been doing what I enjoy!"
A 'real world' approach
TfL is always striving to make sure that apprentices are getting the most out of their programme, which is why they decided to allocate apprentices to current business-critical projects and identify elements they can undertake independently, with guidance from senior team members. Peter Svensson, Agile Development Lead and Tom's apprenticeship mentor at TfL, said 'I decided to give Tom the opportunity to really stretch himself by enabling him to work on a proper project with proper delivery, so that he could learn on the job. I managed to slice out bits of work he could read up on and deliver within a relatively short time frame – taking on more and bigger challenges as he progresses."
Developing the whole apprentice
Tom has been delighted with the opportunity to work on his first major programme to deliver a system to manage fares and revenue apportionment across TfL and National Rail journeys and simulate the impact of complex changes, replacing a number of existing legacy systems. 'I've been working on not just implementing, but designing parts of the system,' Tom explains. 'The new system's all cloud-hosted so I'm getting to work with modern technology. We've built up a young team that will update the fares and revenue apportionment systems to accommodate the opening of the Elizabeth Line, which is really exciting."
One of the things Tom relishes most about this work-based approach to the apprenticeship is the ability to develop his soft skills, an area where, as Peter says, he really stands out from the crowd. Peter said: "The team he's in works closely with experienced fare and revenue specialists, so you need to be good at communicating in addition to developing your technical skills. I'm asking Tom more and more to go and talk directly to our clients, representing our team independently."
Building a support network
His outstanding technical ability and strong interpersonal skills have made Tom a natural when it comes to supporting other apprentices. "He's a great role model," says Kevin Brown, Tom's Learning Mentor at Firebrand Training. "People look up to him in terms of his knowledge, but he's very humble and professionally focused." Tom views his support for the increasing number of apprentices coming into the team as a vital part of their development. "For a lot of apprentices, it's their first 'proper' job, so they're adjusting to working life together – something which you wouldn't get by entering industry through a different route. It's about passing it back – people helped me when I started, so I try to do the same."
TfL's decision to immerse their apprentices in essential projects has allowed them to develop in a multitude of ways. "Having followed Tom's career from when he joined, the way he programs and the way he champions and leads other apprentices now is just brilliant," says Peter. For Tom, it's clear he's found the perfect option. "I wouldn't have been able to be where I am now without the apprenticeship. I'm saving for a house, I've had a career for three years and I'm living a proper life."
Learn more about software development apprenticeships with Firebrand Training on their website.