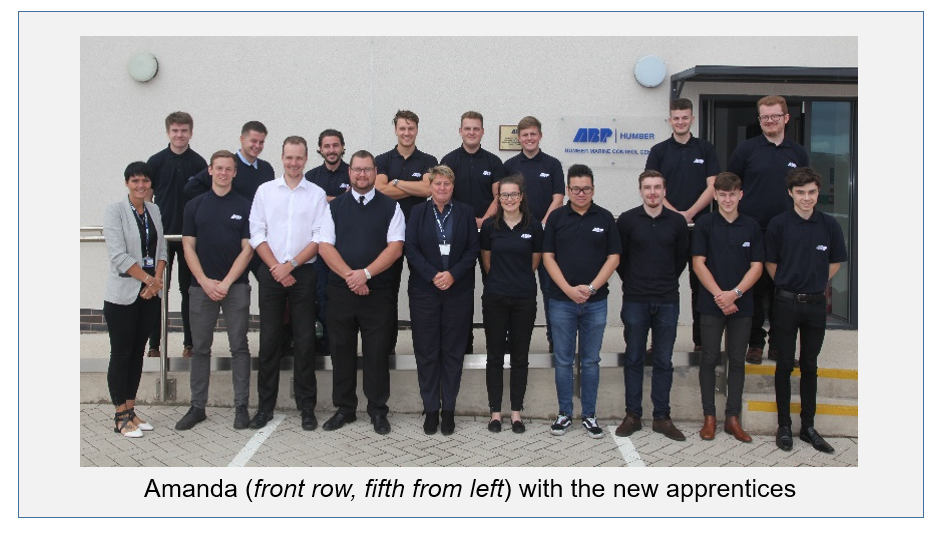 The maritime industry has launched a new set of apprenticeships with roles on ships and in ports.
The three new apprenticeships for ports are Marine Pilot who helps to navigate ships; the Port Marine Operations Officer who helps to guide ships into port; and the Port Operative who is responsible for unloading crates and goods from ships effectively.
We spoke to Amanda Viljoen, Group Marine Training and Apprenticeship Programs Manager at Associated British Ports. She explained more about what these apprenticeships will involve and why they were needed by the maritime industry.
What kinds of skills will these apprentices learn?
As part of their training, Marine Pilot apprentices will be taught how to safely navigate and handle vessels in and out of ports, rivers or harbours. While doing so they would wear a uniform or protective clothing such as hard hats, gloves and the like.
Port Marine Operation Officer apprentices will also be part of the team that safety guides vessels in and out of ports, and they could also be involved with mooring and berthing ships.
The Port Operative apprentices will be taught how to load and unload ships properly. This involves learning how to use various pieces of equipment and machinery such as forklift trucks and cranes.
Whereabouts would apprentices be working?
They could end up working in a range of ports across the UK.
Where could these apprenticeships lead in future years?
These apprenticeships could set the apprentices off on a range of different pathways. For instance, a Marine Pilot apprentice could end up piloting large vessels. Port Marine Operations Officer apprentices could go on to work in management or supervisory roles, or they could eventually become harbour masters. Port Operative apprentices might go on to work as port operation managers or in other supervisory roles.
What personality traits would stand you in good stead for these roles?
Team work is a big part of all of these roles. Apprentices should be good team players but also self-reliant. They should be assertive, but able to follow instructions.
Amanda, why were these new apprenticeships necessary for the Maritime industry?
Previously, we didn't have any apprenticeships relating to these roles. We would normally recruit people who were already working in other sea-going roles. However, recruiting this way has become much harder, so we need to look for alternative ways to train staff and ensure they have the necessary skills. These apprenticeships also support the industry's 'succession plan' ensuring the skills are there in the future.
How do you think your industry in general feels about the formation of these new apprenticeships?
Some within the industry may view the creation of these new apprenticeship standards with a certain amount of scepticism, because they are challenging a very traditional way of recruiting people.
Others may feel that more needs to be done to find colleges willing to run the apprenticeships, so we can secure the required uptake. I have some sympathy with this view.
But, there's no doubt that these new apprenticeships will significantly add to the health of the industry. It currently has an ageing population, and, as mentioned earlier, it's now very difficult to recruit new people from other sea-going positions. These new apprenticeships will ensure the new generation will have to adhere to robust standards, and will be fully competent.
You can find a list of all apprenticeship standards approved for delivery on the Institute's website.