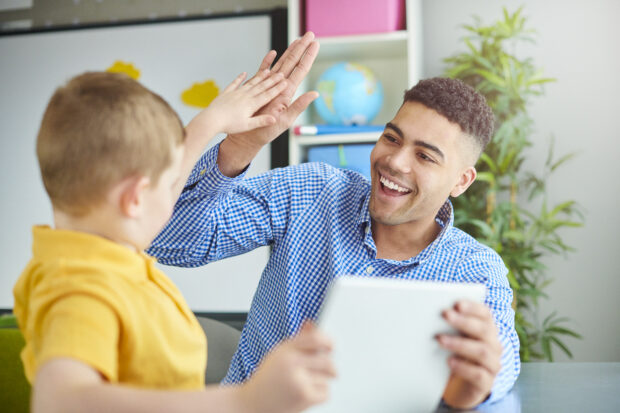 Jonathan Mitchell is Head of Standards Development at the Institute for Apprenticeships and Technical Education (the Institute). He previously spent 17 years as a teacher and ultimately a senior leader in schools across the country. He takes the opportunity below, on World Teacher Day, to reflect on the transition from teaching to developing new apprenticeships.
Drawing on familiarities
I'm not sure whether it should have been surprising or not, but I encountered something strangely familiar about my work when I joined the newly formed Institute in April 2017. I had, until then, spent seventeen years as an English teacher, head of a couple of academic departments and ultimately a senior leader, in various different schools across the country. In some ways, the apprenticeship standards were just like my former pupils – desperately trying to 'pass' the Institute's approvals process, with all the concomitant relief, disappointment and frustration of their 'parents', the trailblazers.
It was hard to resist viewing my team of Relationship Managers as in some ways a tireless teaching staff – at the front line, delivering learning, guidance and formative feedback, often up until ungodly hours in the service of their craft. The only thing that was really missing was the longer holidays (yes – I am still struggling to come to terms with the paltry holiday entitlement of 'normal' jobs!).
Since then, perhaps some of the familiarity has ebbed away, but I remain very glad to have this prior experience on which to draw in my work. In many ways, for instance, the Institute's approvals process is itself a summative assessment process: work is submitted and then 'marked' by Route Panels and others against success criteria, and it's been helpful to have teaching experience to draw upon as we've thought about how best to transmit the learning required of trailblazers, ensure that the pass rate is as high as possible – and that we minimise the need for 'resits'.
Learning about apprenticeships,combining experience with theory
It was a growing interest in the ways that schoolchildren are prepared for the world of work that drew me towards joining the Institute. I'd already embarked upon my own employer-led consultation and curriculum design exercise in my last teaching post. It had culminated in the creation of a sixth form diploma that explicitly privileged the development of communication, service, professional and flexible skills, knowledge and behaviours required in the modern workplace.
This reflected my growing interest in the blend of experiential and theoretical learning that exists in apprenticeships, but it also propelled me towards a role that would give me greater scope and reach to expand on what I'd already done.
What was clear to me then, and is still clear now, is that like most other teachers, I knew very little indeed about apprenticeships or the implications of the current reforms – not even enough to have been aware that the creation of my sixth form diploma had inadvertently mimicked the trailblazer standards development approach.
I speak to audiences of school leaders or learners fairly often, and I don't think enough has yet changed in this space: it's fascinating to see the scales drop from the eyes of parents, pupils and teachers about the opportunities an apprenticeship may offer to the right learners, but it bothers me that so much of this still seems to be received as new information.
Thank you to teachers for your dedication and skill
We hope that the evolution over time of the Teacher apprenticeship standard and other connected standards intended for use in FE and HE will play a role in addressing this knowledge gap. If some –maybe one day even most – teachers and trainers have themselves experienced apprenticeship learning during their training, they would be far better placed to advise learners about the experience and opportunities of apprenticeships.
Meanwhile, today, on World Teacher Day, we salute all of those who transmit information, share knowledge, and support learning in any way. Your dedication and skill provide the critical foundation for the lifelong learning that will be a part of all of learners' futures – whether they progress into apprenticeships, T Levels or other kinds of learning and training. Our job at the Institute would be pointless without you!