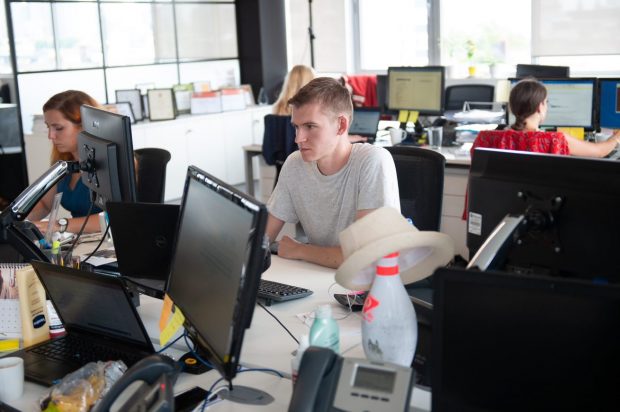 Our Digital Trailblazer Groups (TBG) have been hard at work moving their respective standards through the initial drafting phase as part of our Digital Route Review,and are continuing to seek employer members from relevant sectors. Please don't be shy. If you are thinking of using, or are currently using, one of the digital standards under revision then your voice matters. If there is something you love, or loathe, about the current standards then do get in touch with the relevant TBG Chairs or me as the Relationship Manager and we will be glad to include you in the work we are doing.
There have been some stories flying around that stakeholders are being excluded from the process as a matter of IFATE policy. I would like to assure everyone that this is not the case. The process has been purposely designed to be employer-led, but always with a listening ear to other key stakeholders in the process such as providers and End Point Assessment Organisations. The TBG Chairs are happy to share the thoughts from their TB Groups, however this is always with the caveat that nothing is certain until the standard has received IFATE agreement. It can be a problem getting the balance right so that all voices are heard, but the consultation phase from the Institute and the inclusive nature of our TB Groups should mean that even if you cannot attend in person you can review the outputs as they develop. We do not publish the 'thinking' of the groups as they review the standard in order to give the members freedom to create and try out ideas in a risk-free environment. By being a member of that TB Group you get a chance to contribute to that process.
Becky Plant (Microsoft) says of the process so far:
Being a Chair of some of the TB Groups as we work through the statutory review has been refreshing and a great comparison for me as I am able to compare and contrast from when we did this first time around. It's so pleasing to see collaboration between different sectors come together to create new digital standards that are future proof and fit for purpose for the years ahead. As we move into the next phase for my groups it's exciting to share the work for consultation while we continue to build and develop the other standards I am chairing.

The Digital and Technology Solutions professional standard also continues to make significant progress and the TBGs are moving into considering the specialisms/options within the standard and what they should look like.
Jenny Taylor (IBM) says of her experience so far:
As Chair of the Digital and Technology Solutions Professional Level 6 Degree Apprenticeship, I'm very pleased with the progress we have made so far in revising the Standard and the collaboration between IFATE, employers and providers; all of whom attend our Trailblazer meetings. I'm also delighted that we have had some new employers join the TBG as it's really important for us to have as wide a representation of employers as possible. We know that our standard is used by multiple sectors so all are welcome and we particularly want to encourage SMEs to participate.

We are undertaking research and gathering evidence to continue to justify the retention of the mandatory degree qualification in the standard – as it  has been so successful to date – and  any assistance with that piece of work would be most welcome.
Summary of activity and timeline for standards review
Data Analyst L4 – TBG achieved submission of standard to Route Panel by 31 October. An EPA workshop was held in mid-October to scope out what was required with a follow up workshop booked for 16 December.
Network Engineer L4 – Following low engagement from interested employers the draft standard has been revisited with a wider TBG membership prior to wider consultation. The TBG now aim to submit the standard to Route Panel by 08 January 2020. An EPA workshop is now rescheduled for 26 November 2019.
Unified Communications Trouble-shooter L4 – following low engagement from interested employers, this standard may be decommissioned as content does not fit with Network Engineer. No decision has been reached on recommendations to be made yet however some employers have now come forward and the TBG aims to submit recommendations back to Route Panel by 25 November.
Cyber Intrusion Analyst L4 and Cyber Security Technologist L4 – employers are meeting in regular workshops to redraft the standard and are continuing to make good progress with the aim of submitting the revised standard by 08 January 2020. The new standard includes 3 potential options.
Software Developer Technician L3 and Software Developer L4 – we held an intensive workshop for employers on 25/26 Sept to build the draft standard and consider the link to T-levels and pre-existing standards. The TBG are aiming to retain as separate standards and submit revised standard to Route Panel by 08 January 2020.
Infrastructure Technician L3 –we held a workshop on 25 October to revise the standard and consider if Unified Communications Technician could fit effectively within the IT L3. The TBG decided that UCT should sit outside this standard. The workshop also considered the link to T-levels and pre-existing standards. The TBG propose to submit revised standard to Route Panel by 08 January 2020 with EPA workshop on 21 January 2020.
Unified Communications Technician L3 – a new TBG is being formed to consider reformulating a standard to fill a need for this occupation and make an approach to Route Panel to proceed.
Software Tester L3 – following low employer attendance, a workshop has now been scheduled for 21 to 22 November to scope out the standard and draft revisions.
IS Business Analyst L4 – work is ongoing with TBG to review draft duties and KSBs in advance of a workshop at the Business Analyst Managers Forum in November. Aiming to submit standard to Route Panel by 08 January 2020.
Digital and Technology Solutions Professional Level 6 – TBG has expanded to include further employers and are currently refining the core KSBs and moving onto the specialisms/options currently available at a TBG meeting on 26 November. Research is being commenced to test the necessity for the mandatory inclusion of a degree so that an evidence-based decision may be reached. The group are now on track to submit revised Core standard and options by February 2020.
For more details visit the Institute's website.