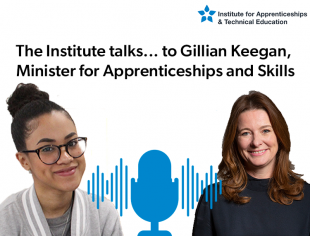 For National Apprenticeship Week, our apprentice panel asked 10 questions to Gillian Keegan, Minister for Apprenticeships and Skills. The questions ranged from social mobility to funding for degree apprenticeships.
This is the first podcast for The Institute talks. This new channel will have podcast ranging from inspiring interviews with apprentice panel members to explaining how the Institute ensures high-quality apprenticeships and technical education.
The host for the podcast is apprentice panel member, Jamilah Simpson. Jamilah was a digital marketing apprentice at Google and now works for Multiverse as a Community programme and network associate.
In the podcast, Jamilah asked the minister about her time as an apprentice and about being the first apprentice to hold the role of minister for apprenticeships and skills.
I started at 16 and they supported me right the way up to degree level, so it was it was a life changer and in terms of social mobility, it completely changed the outcome of my life.
The minister also talked about how the apprentice panel fits into the work she does, giving her feedback about the apprenticeship programme "on the ground".
It's really to get that feedback from your experience and also make sure that we continue to challenge ourselves to deliver the best experience we can for apprentices across the country.
You can find more information about the apprentice panel on the Institute's website.