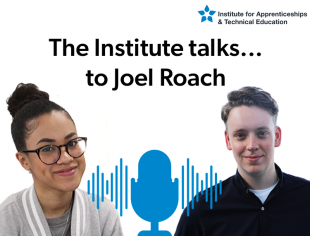 Part of our apprentice panel podcasts, Jamilah Simpson our apprentice panel host interviews member, Joel Roach.
Joel, 20, is currently completing his chartered managers' degree apprenticeship at Microsoft.
Deciding that university wasn't for him, Joel came across degree apprenticeships as a way of gaining the experience of the workplace but getting the degree at the same time.
"It just seems like such a no brainer really. I wanted to be working, I wanted to be gaining real skills and applying the stuff I've learnt into the real world. So, it just seems like such an obvious decision to me."
Since starting his apprenticeship two years ago, Joel has had some incredible opportunities beyond his day-to-day role including being on the board for the LGBT+ community:
"Just having that opportunity is amazing. It's not something I never would have got if I hadn't had my apprenticeship. To have this much impact and learn from all these other people around me that's been a really incredible thing to do."
You can find more information about the apprentice panel on the Institute's website.