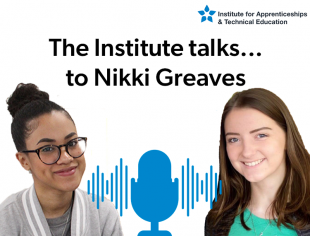 Part of our apprentice panel podcasts, Jamilah Simpson our apprentice panel host interviews member, Nikki Greaves.
Nikki Greaves, 20, is currently completing her level 5 laboratory science apprenticeship with GlaxoSmithKline (GSK).
Always interested in science and pharmaceuticals, Nikki was set on going to university and doing a biomedical degree. Nikki admits that she only really applied to GSK as a late-night decision that she thought would be a back up to her university application. However, after applying Nikki researched the apprenticeship and the company and found that she would be much better suited to an apprenticeship.
Since starting her apprenticeship Nikki has improved her knowledge and she says her confidence has grown massively:
"I am proud that I've gained the self-confidence to be happy to network with people as I used to be a huge introvert. I have achieved and got involved with many things that I wouldn't have expected I could do before."
Nikki's work as an apprentice has now led her to becoming the communication lead for GSK's apprentice network, meaning she is the voice of around 300 apprentices that work in the UK at GSK.
At the end of her apprenticeship, Nikki will have a degree, but she will also have at least three years' experience of working in one of the largest pharmaceutical companies in the world.
Nikki is a great advocate of apprenticeships and believes they should always be considered as a first priority rather than a back-up.
"Explore the apprenticeship routes online as there are so many more available than people realise," she said. "It's a fantastic alternative to university as you gain so much hands-on experience and get to network with professionals in your field. So I would say go for it!"
You can find more information about the apprentice panel on our website.