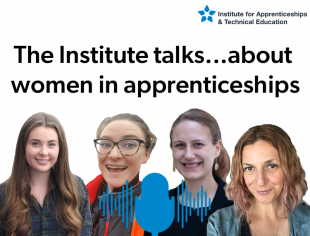 In this episode of The Insitute talks, we talk about women in apprenticeships.
In the podcast, we are joined by Anna West, Deputy Director for Apprenticeship Approvals and Funding, Helen Douglas, Director of Apprenticeships at Cisco and digital route panel member, and Stacey Dunne, Telecoms apprentice at Virgin Media and an apprentice panel member.
We ask the questions 'what has your experience been like as women in apprenticeships' and 'what are the barriers for women'.
The overall proportion of women on apprenticeships remains at around 50%. At the Institute, we want to see far more women taking STEM apprenticeships and know that employers feel the same.
However, there are lots of great opportunities out there for women in STEM apprenticeships right up to degree level. At Cisco, Helen talks about all the new initiatives she's set up to encourage more women into the digital sector, resulting in 49% of their apprentices being women!
At the Institute, we are continuing to look at diversity and inclusion within our organisation and in our provision of technical education and apprenticeships. In the podcast, we discuss ways we can have more diverse representation on our panels, and how diversity and inclusion is at the heart of everything we do.