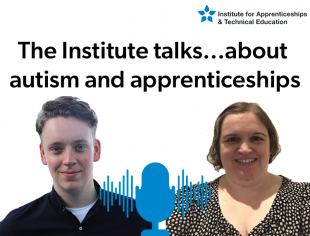 As part of our apprentice panel podcasts, Joel Roach our apprentice panel host interviews new member Rhiannon Rees-Jones.
Rhiannon is a former level 3 business admin apprentice at Northamptonshire County Council.
As a mature apprentice, Rhiannon's employer gave her the opportunity to do an apprenticeship to help progress her career,
I'm actually glad I did because it gave me the motivation I needed to excel in my current role, it's never too late to start a career
In the podcast, Rhiannon talks about her diagnosis of Asperger's in her late twenties and the challenges she has had to overcome and why she wanted to join the apprentice panel
I wanted to be on the panel to share my life and experience, build up a network, and to give another voice for autism and continue raising awareness
To help raise awareness, Rhiannon is working with the Institute to help autistic people in apprenticeships,
I've already had a meeting with various panel members and the Institute members and giving them some of my ideas such as easy read material. And then I'm presenting at the meeting where I've got a bit of information on the spectrum on what to look out for like the behaviours to recognise. Hopefully, it will build a platform that will feed into the best practice guidance as well so it's all very interesting
On completion of her apprenticeship, Rhiannon achieved an overall grade of Distinction. She also achieved two Northamptonshire Health and Care Partnership awards, the Apprenticeship Award for 'Behind the Scenes' in Adult Social Care and 'Apprentice of the Year' 2020.
You can find more information about the apprentice panel on the Institute's website.