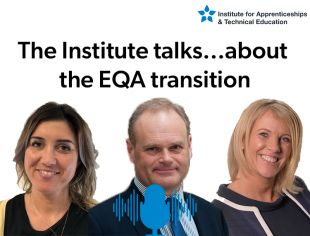 This podcast was recorded for end-point assessment organisations (EPAOs) who must apply for Ofqual recognition by 1 July in support of external quality assurance (EQA) reforms.
Charlotte Bosworth, managing director of Innovate Awarding and chair of the Federation of Awarding Bodies' (FAB) End-Point Assessment Organisation Group, Jessica Lewis-Bell, senior strategic relationships manager at Ofqual, and our own chief operating officer Rob Nitsch answer questions and provide guidance and insights.
EQA monitors the end-point assessment that apprentices take at the end of their apprenticeship, to ensure that it is fair, consistent and robust across different apprenticeship standards and between different assessment organisations.
The Institute announced plans to move to a new simplified system for EQA of apprenticeship end-point assessment last August.
The changes will see EQA delivered by Ofqual or, for integrated degree apprenticeships, the Office for Students.
Phase one requires a transition of over 260 apprenticeships from the Institute's EQA service to Ofqual. All related end-point assessment organisations on the Education and Skills Funding Agency's register need to secure recognition from Ofqual as part of the process.
The timeline was extended in February after the Institute and Ofqual recognised how the unprecedented challenges posed by COVID-19 and the third national lockdown had slowed down applications.
EPAOs who are overseen through the Institute's EQA service now have until 1 July to make formal applications for recognition from Ofqual. They will then have until 16 December to complete the recognition process.
Charlotte, Jess and Rob also look forward to the second phase of the process and how the next wave of EPAOs will move to Ofqual.
EPAOs can also book now on the FAB website for a series of quality clinics to support excellence in EPA and applications for Ofqual recognition.