In apprenticeship standards, the apprenticeship itself serves as the qualification that accredits occupational competence, as measured by a robust, independent end-point-assessment. Where there are no additional mandatory qualifications in an apprenticeship, there will still be a need for measuring and reviewing progress towards achieving competence.
Previously the criteria permitted the inclusion of a mandatory qualification within an apprenticeship. These were applied to all qualifications equally (except for Degrees).
However, we recognise that there are different types of qualifications, which we have divided into three categories below:
qualifications which accredit occupational competence. These qualifications duplicate end-point-assessment, add costs and may draw resources away from training
off-the-job technical qualifications such as "day-release qualifications". These qualifications do not duplicate end-point-assessment and add very little in costs because the training would happen anyway
short awards such as a "Food Safety Certificate" or "Manual Handling", usually delivered off-the-job.
Until now we have allowed all three types of qualification to be mandated within an apprenticeship standard where: it is a regulatory requirement; is required by a professional body; or it is such a must-have in the labour market that an apprentice would be disadvantaged in job applications without it – known as the "hard sift" requirement.
To this list, we are now adding one more reason why a qualification can be mandated:
if it is an off-the-job technical qualification that does not accredit full occupational competence and would either add breadth to the apprenticeship or provide structure for the off-the-job training.
The table below sets out our position on each type of qualification we have identified in relation to the criteria for mandating qualifications in apprenticeship standards.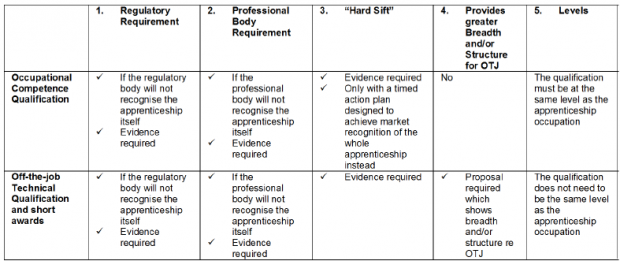 Where there is no mandatory qualification for an apprenticeship standard, an employer can use one voluntarily - including Degrees - if the content aligns with the standard and the employer pays the registration and certification fees.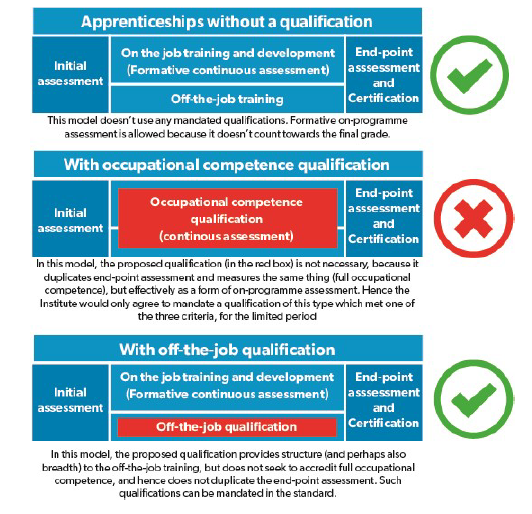 A note on continuous assessment: we are often asked whether it is necessary for training providers and/or employers to carry out continuous assessment during the apprenticeship where there is no qualification. This is necessary to track progress - for the apprentice, training provider and the employer - to sign-off the apprentice as ready for End-Point Assessment. This is called 'formative assessment'.
However, a defining principle of apprenticeship standards is that the only assessment that counts in determining whether an apprentice is fully competent is carried out at the end of the apprenticeship (the End-Point Assessment). Continuous assessment carried out prior to this cannot be counted towards the outcome of the apprenticeship.
Find out more about the Institute's Faster & Better programme on our website