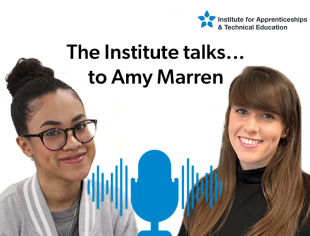 Part of our apprentice panel podcasts, Jamilah Simpson our apprentice panel host interviews new member, Amy Marren.
Amy, 22, is a level 7 solicitor apprentice at BPP. She is also a double Paralympic swimmer, competing in the last two Paralympic Games, winning a bronze medal at Rio.
After finishing sixth form, heading straight to the Paralympic games, Amy was thrown into the deep end starting university. A few months at university, she quickly decided it wasn't for her and started applying for apprenticeships.
"I wasn't 100% sure on the industry that I wanted to be in, but what really appealed to me was the whole dynamics of working and studying at the same time. I think I'm much more of a practical, hands-on person, so the experience I get of learning alongside established, people in that industry so professionals, I think is invaluable."
Amy started a paralegal apprenticeship in September 2017 before moving onto a level 7 solicitor apprenticeship.
"I'm really lucky that the company that I work for, BPP, they're really supportive of sort of my vision of what I want to do. They took me on as a paralegal apprentice, and they sort of felt the waters a little bit and see if I wanted to be solicitors apprentice first of all. So, I'm very well supported so I know the next direction I do go in you know I'll be looked after, and I will get to that end goal."
You can find more information about the apprentice panel on our website.