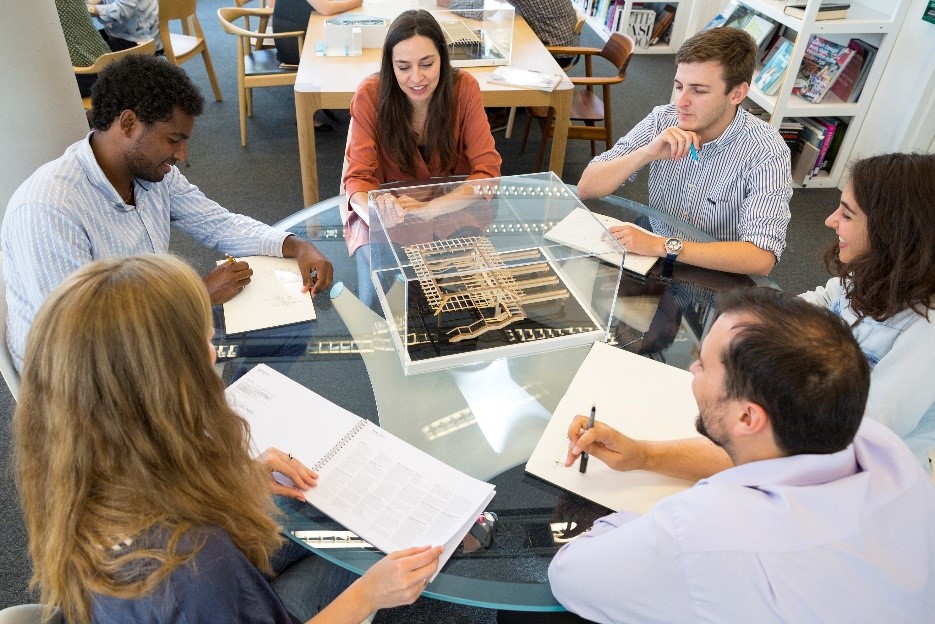 Charlotte Sword from Foster and Partners chaired the Architecture Trailblazer group which developed new Architectural Assistant and Architect apprenticeships.
We asked her and the group to tell us more about these apprenticeships, and what they will mean for the sector.
Charlotte is Senior Partner, Global Head of HR at Foster and Partners.
Why the sector needed apprenticeships
According to Charlotte, it was important for the architecture sector to introduce these kinds of apprenticeships in order to progress. She said, "Here at Foster and Partners, we felt that the introduction of apprenticeships would massively increase diversity, inclusion and social mobility within the sector. We really wanted to support the idea, and to be involved in their creation."
Bringing people together
When it came to initiating the development process with the trailblazing group, Charlotte said, "At the start, we figured our biggest challenge would be to bring together all the different stakeholders across the sector. We knew that, if we wanted to be successful, we would need to generate a collection of pragmatic and visionary solutions – which would need to be accepted by the whole sector. It was therefore crucial for us to bring together architecture practices, professional bodies (such as The Royal Institute of British Architects and the Architects Registration Board) and academic institutions, and work towards forging a meeting of minds."
Charlotte feels that her trailblazers rose to the occasion. She said, "Ultimately we managed to achieve this goal - and the level of interaction between all the different parties has now strengthened relationships significantly, which has been positive all round."
Roles the apprentices will take on
The Architecture Trailblazer group said, "After completion, the Architect Assistant apprentices will work closely with architects and other members of the design team such as engineers, interior designers or landscape architects. They will assist them in designing buildings or creating spaces. By this stage an apprentice will have received a Part 1 qualification – a BA in Architecture."
"And when the Architect Apprentices complete their apprenticeships, they will be able to officially register as architects, which is a protected title in the UK. They will then be responsible for designing and delivering a range of architectural projects which could range from a small house extension, to a high-rise office, to an airport, to an urban design."
Improving access to the profession
The group also talked about how the new scheme will serve to open doors, "Currently the average length of time it takes to qualify as an architect is 10 years – which has definitely been a barrier to entry for some. But this scheme will support students financially, as well as helping them develop as professionals."
Types of skills developed
The group revealed, "These apprentices will be taught building design skills, drawing skills, and how to use the relevant technology. They will learn how to create a conceptual vision of a building, space or city, and then to be able to develop this vision further, drawing it up as a series of plans, sections, elevations and visualisations."
"They will also be guided on how to investigate and research a project, and how to challenge a project brief, should they feel they need to. They will learn how to create strong client relationships, and how to interact with both clients and contractors, in a way that will ensure that the end vision is realised exactly according to the architectural drawings and client desires."
Freedom to move around in the industry
The Architecture Trailblazer group drew attention to the fact that some of the skills gained can be applied in different areas. She explained, "Both sets of apprentices will also gain a valuable range of transferable skills. This is important, for it means that they could ultimately work in a range of 'built environment' related businesses - from construction, to property development, to design.."
Industry reaction
According to Charlotte, the industry in general has reacted positively towards the scheme. She said, "People in the industry are extremely keen to improve diversity, and see the profession become more accessible. During the development process we had strong support from all quarters, and we know that this support is likely to continue going forward, because it's clear that everybody wants to see this positive change to the sector come about."
Charlotte has also been happy with the press coverage received. She said, "The industry press have reflected the positive reaction around these apprenticeships, and this has helped generate interest amongst potential applicants."
With regard to what happens now, The Architecture Trailblazer group said, "A number of universities are now developing their delivery models, and we are hoping to employ the first apprentices in Autumn this year."
A representative from RIBA said, "The new Apprenticeship Standards will help to encourage the widest talent pool and address the underrepresentation of architects from lower socio-economic backgrounds who, without parental support, face barriers to full-time education." RIBA's full statement can be read here.
Photo by Aaron Hargreaves/Foster + Partners